Professor WU Feng Received 2021 Mac Van Valkenburg Award
IEEE Circuits and Systems Society (CAS) presented the 2021 IEEE CAS Mac Van Valkenburg Award to Professor WU Feng for his "contributions in multimedia non-uniform coding and communications" on May 24, 2021. This is the first time that the prestigious Award is presented to a scholar from Chinese Mainland.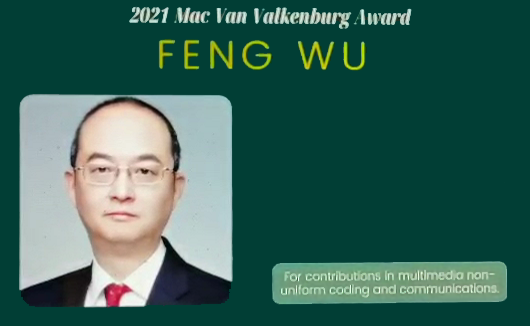 The IEEE CAS Mac Van Valkenburg Award was first presented in 1985. It had been named the IEEE Circuits and Systems Society Award, and later renamed after Mac Van Valkenburg, one of the pioneers in the field of circuits and systems, who had been a member of the National Academy of Engineering of the US, Dean of the Department of Electrical Engineering at Princeton University, and Dean of the School of Engineering at the University of Illinois. Mac Van Valkenburg Award is the highest technical honor of IEEE CAS, and is presented to only one scholar per year usually. Among the previous awardees, two-thirds of them have been members of national academies of different countries.
Professor WU Feng is an expert in the field of media streaming. He has conducted research on theory, key technologies, standardization, and industrial applications of media streaming for more than 20 years. He established the non-uniform rate-distortion theory for multimedia, solved several key technical problems of efficient media compression and adaptive media transmission, and promoted the development in the field of media streaming in China. He has authored 2 books, more than 180 journal papers, and has been granted more than 150 patents.
WU's technical proposals have been adopted into MPEG-4, H.264, H.265, among other international video compression standards. He is the chair of the IEEE Data Compression Standard Committee. His contributions made our nation achieve important breakthrough in the competition of international video coding standards. He led the development of a real-time H.264 codec, which was adopted as a component of the Windows 7 media kit that represented the state of the art and was installed more than 450 million times. He developed the first H.265 media streaming system based on 4G (LTE), and the H.265 hardware codec later. The H.265 hardware codec has been adopted into smartphones, and the chip shipment volume reaches 100 million. His developed technologies are also widely used in industrial products/services such as Tencent Meeting.
WU has gained international reputation in the field of media streaming. He was elected Fellow of IEEE in 2012. He serves as the editor-in-chief of IEEE TCSVT, a top-tier journal in the video technology area. He received the Second-Class Prize of National Natural Science Award in 2015, the Second-Class Prize of National Technological Invention Award in 2019, the Second-Class Prize of National Technological Invention Award in 2006, the Science and Technology Progress Award of the Ho Leung Ho Lee Foundation in 2020, and the Special-Class Teaching Achievement Award of Anhui Province in 2019.

List of receivers of IEEE CAS Mac Van Valkenburg Award could be found at https://ieee-cas.org/awards-and-fellows/ieee-circuits-and-systems-society-mac-van-valkenburg-award.